Stay with Alianon Package
活动期间 : 2021. 8. 26 ~ 2021. 12. 31 (Check-in date)
★Check-in on Thursday and Friday★ 入住1晚(38%折扣) + Lunch course A vouchers for two at Alianon Restaurant + LA CHINATA Amenity + 札嘎其邮轮优惠券2张 + Museum DAH:折扣优惠 + 釜山水族馆折扣优惠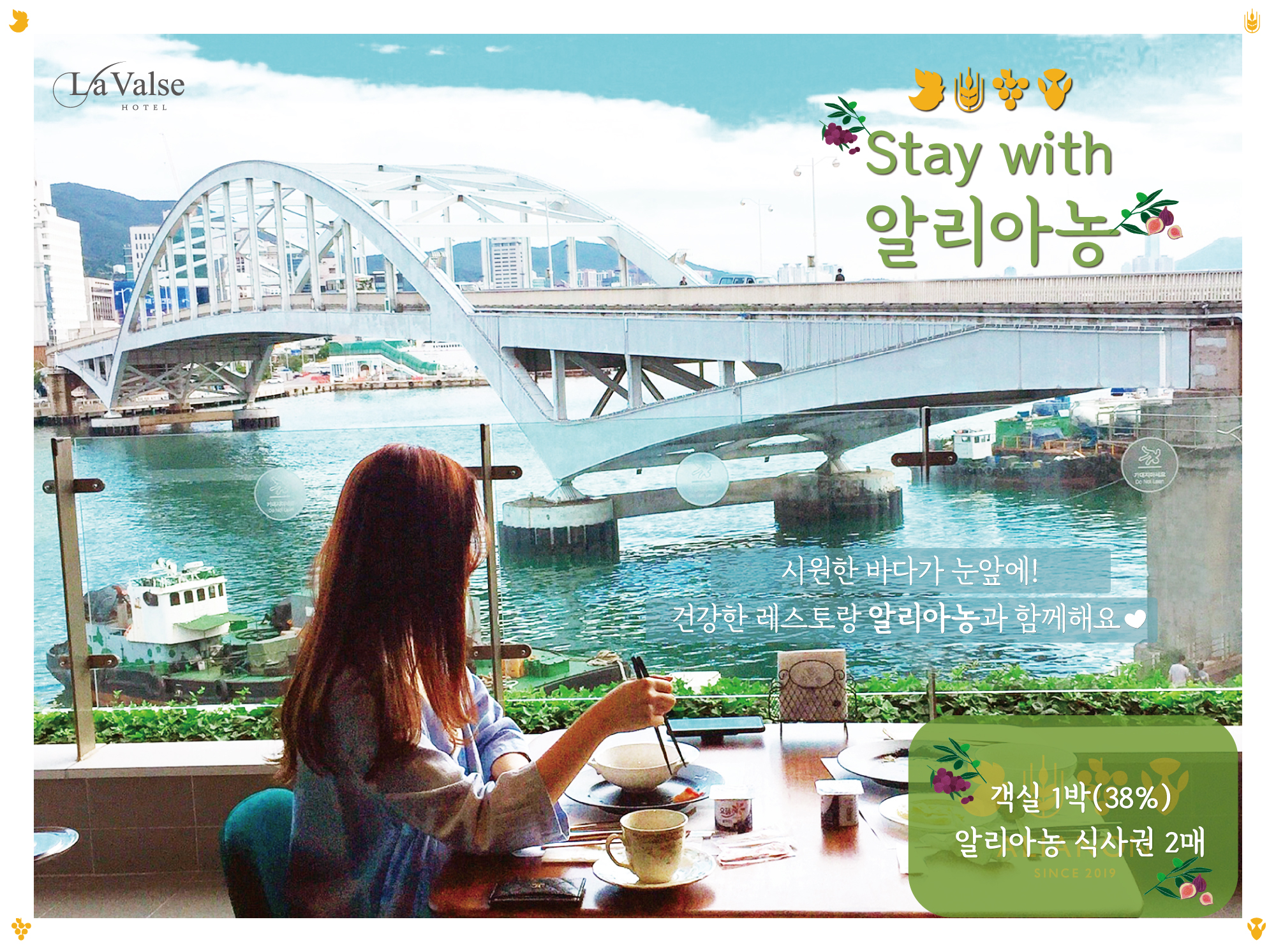 The cool sea is right in front of you! Let's have a healthy restaurant, Alianon♥
Alianon, a healthy restaurant with the Mediterranean Spanish olive brand LA CHINATA Gourmet!
Enjoy the view from the rooms and enjoy course and dessert bars at the Alianon Restaurant on the 3rd floor of the La Valse Hotel.

* Please check if you can make a reservation for meals before a room reservation.
* 各日期费用不同,请务必在预约时确认。
* 本商品是仅适用于网预约时的商品。

Details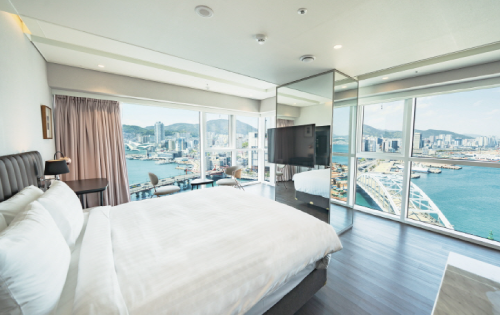 ROOM
★Check-in on Thursday and Friday★ 入住1晚(38%折扣)
可欣赏釜山全景的乐华兹酒店独有的室内装饰,是可为顾客带来舒适和愉悦的客房。
金额因客房而变。
The above image is the Corner Ocean Room.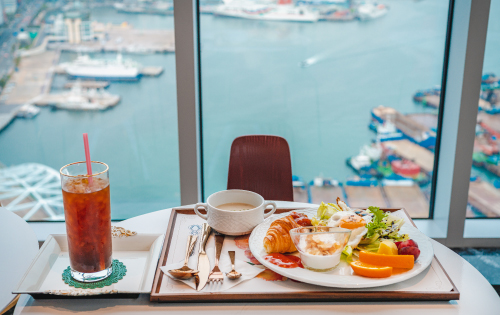 RESTAURANT
Lunch course A vouchers for two at Alianon Restaurant
You can enjoy lunch course A vouchers for two at Alianon Restaurant on the third floor while watching the Yeongdo Bridge and Busan Bridge. Enjoy the 6 Course + Dessert Bar with chicken steak.
You can change to Lunch Course B or Dinner Course with additional options when booking.
[Notice for using vouchers]
- You can change vouchers with additional options when you make a reservation, and an additional fee will be charged (10% off the same amount).
- If you want to change it at the front desk, please note that you can change your voucher by check-in date.
- Please check if you can make a reservation for meals before a room reservation.
- Please make a reservation individually at the Alianon restaurant and use the vouchers.
(Alianon inquiry +82 51-790-1542)
[Operation hours of Alianon]
- Lunch (Thu-Sun) 11:30-14:30 (Last Order 13:30)
- Dinner (Thu-Sun) 17:30-21:00 (Last Order 20:00)
- Closing every Monday-Wednesday / Pre-booking system
If you can't book a restaurant or reservation be canceled because of the on-site situation, you can change the package.
(Inquiry +82 51-790-1500)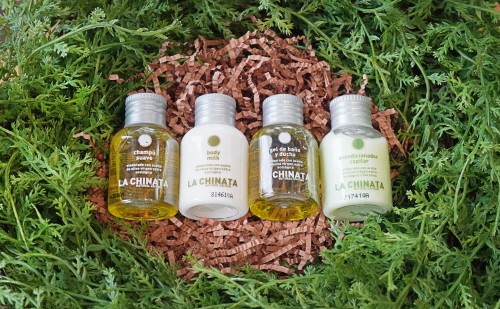 AMENITY
LA CHIANATA Amenity
Take a relaxing break with the amenities from La Chinata, a Spanish brand that specializes olive products for 90 years.
The original price is 10,000KRW. It contains Natural line shower gel, body lotion, shampoo and conditioner, and olive soap.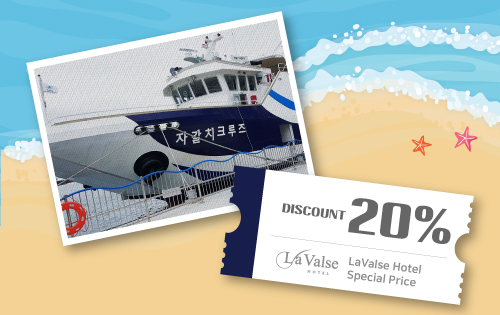 JAGALCHI CRUISE
Jagalchi cruise discount options
When you buy a ticket for Jagalchi Cruise, You can get a 20% discount if you show up as a guest at the Lavalse Hotel.
This only applies to Jagalchi cruise adult tickets.
Tickets can only be purchased on the same day.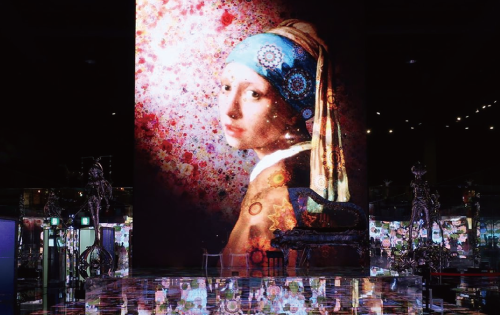 MUSEUM DAH:
Museum DAH: discount options
Present your room card for a 6,000 KRW discount up for Museum DAH:
The 6,000 won discount coupon offered at the front is valid without a room key.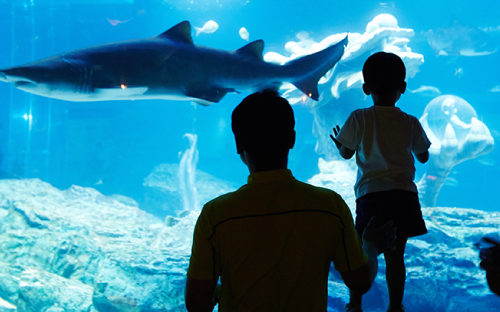 SEA LIFE AQUARIUM
釜山水族馆折扣优惠
入住期间出示客房房卡即可优惠40%,最多3人同时使用。
前台配置的1万韩元优惠券在入住时间内均可以使用,但是不能同时与客房房卡优惠重复使用。
注意事项
所有价格包含10%税费。

该商品根据酒店情况会有变。

If the number of people in the room(14 years of age or older) exceeds the standard amount of people, an additional person will be charged at the site.

An extra 44,000 KRW per additional person, 55,000 KRW per additional bedding(including the additional person price), and 77,000 KRW per additional bed(including the additional person price) will be charged.

入住时间从下午3点开始,退房时间截止至上午11点,提前入住或延迟退房可能需要支付额外费用。

酒店被指定为禁烟区,吸烟需要支付额外的维护费用。(300,000韩元)

Please understand that it may take up to an hour to take out the cars on weekends/peak season.

各日期费用不同,请务必在预约时确认。

本商品是仅适用于网预约时的商品。